Cowboy's Ten Commandments posted on the wall at Cross Trails Church! in Fairlie,Texas.
(1) Just one God.
(2) Honor yer Ma & Pa.
(3) No telling tales or gossipin'.
(4) Git yourself to Sunday meeting.
(5) Put nothin' before God.
(6) No foolin' around with another fellow's gal.
(7) No killin'.
(8) Watch yer mouth.
(9) Don't take what ain't yers.
(10) Don't be hankerin' for yer buddy's stuff

Now that's kinda plain an' simple don't ya think?

"You really want the finished art or I chalk it up to experience. I do ask for $25 earnest money (nonrefundable) to cover the cost of my supplies. Tell me 254-592-6104 what you want. I'll quote you a reasonable price*!"
*Once we agree on the price I will invoice you by email for the earnest money, then finally for the approved finished art. You can pay in the ways listed below or by personal check & snail mail.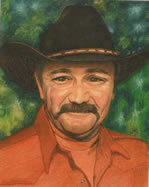 "Stephenville, Texas proudly maintains it is the 'Cowboy Capital of the World'. Home to me, as well as, more past and present rodeo champions than anyplace on earth, it seems only fittin' to include some portraits of cowboys and cowgirls including some WORLD CHAMPIONS of RODEO. "

Click on an image above to view the larger version of the portrait.

Webmaster Bonnie Colleen McCool Copyright© 2001-2013